2023/24 HUNTING LICENSES & DOE TAGS - NOW ON SALE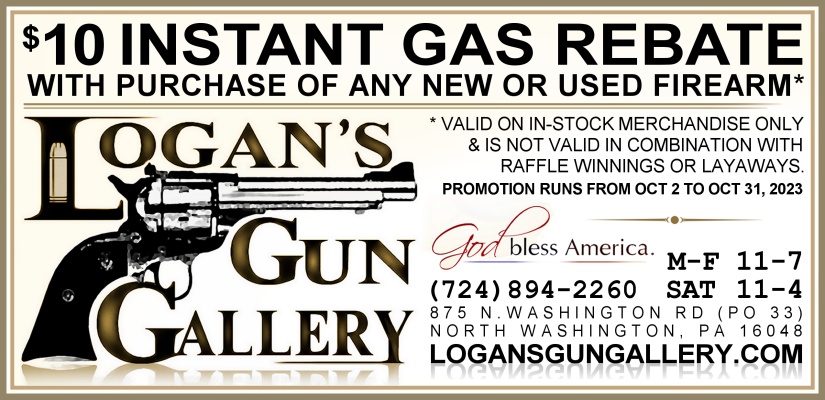 LOGAN'S GUN GALLERY
875 N. WASHINGTON RD. (BOX 33)
NORTH WASHINGTON, PA 16048

(724) 894-2260
YOUR SPORTSMAN CONVENIENCE STORE

LOGAN'S GUN GALLERY is a locally owned and operated gun shop in north-western Pennsylvania that
has been in business since 1997. We have hundreds of new and used firearms in-stock, as well as a
large inventory of hunting, fishing and firearm-related accessories. Any items that are not in-stock
can be ordered in, when available. Please stop by and we'll be happy to find whatever you need!


Hundreds of new and used rifles, handguns, and shotguns in-stock
Plenty of ammo, holsters, slings, targets and other shooting supplies to choose from
A large selection of scopes and optics, including red-dots and lasers
On-site boresighting is available and free with the purchase of a scope
Left-handed rifles, shotguns & muzzleloaders in-stock
Pink pistols, rifles, shotguns & fishing poles
Reloading equipment and components
Bows, crossbows & archery supplies
Muzzloaders and accessories
Live bait and fishing gear
Fair prices for buys & trades
Layaway program up to 90 days
PA fishing and hunting licenses
Gift certificates available

HOURS OF OPERATION:
MON - FRI: 11AM to 7PM
SAT: 11AM to 4PM
SUN: CLOSED SUNDAYS
HOLIDAY HOURS:
MEMORIAL DAY, INDEPENDENCE DAY & LABOR DAY: 11AM to 2PM
CHRISTMAS EVE & NEW YEAR'S EVE: 11AM to 4PM
(CLOSED THANKSGIVING DAY, CHRISTMAS: DEC 25TH & 26TH, AND NEW YEAR'S: JAN 1ST & 2ND)

METHODS OF PAYMENT ACCEPTED:
VISA, MASTERCARD, DISCOVER, AMERICAN EXPRESS, CHECK, CASH & GIFT CERTIFICATE
(PLEASE NOTE THAT ALL PRICES REFLECT A 3% CASH DISCOUNT)

(CLICK EVENT ENTRY FOR DETAILS)

© 2023 LOGAN'S GUN GALLERY, ALL RIGHTS RESERVED
(WILDLIFE PHOTOS COURTESY OF
PA GAME COMMISSION
)